I originally set-out on this journey to create a niche site following Pat Flynn's original Niche Site Duel.
I wanted to prove that anyone can still do this, and that evergreen niches (ones not based on short-term fads or crazes) could still be found and capitalised upon.
So, 6 years on from Pat's original Niche Site Duel, is it still as easy to find a niche for your niche website?
Quite frankly, no!
You would think with a 'how-to' breakdown from Pat, that following the same process in a different topic/industry, you'd be able to quickly and easily source your own niche that meets the same criteria as Pat set for his own niche site (at least 100 potential organic visitors per day and a maximum of 40,000 SEO competitors – more on this later in this post).
Well, it isn't so – or at least not in the areas I selected for my niches.
I suspect the difficulty I experienced was down to two factors:
Pat's original niche site was developed over 6 years ago – therefore a few of the techniques he shows in finding a niche are no longer relevant/applicable. I had to adapt his approach in order to successfully find my own niche
The internet becomes more crowded with each day that goes by, and this, teamed with the fact that online marketers like Pat have publicised how you can set-up your own niche website, has undoubtedly led to many niches being filled over the past 6 years
New niches are always opening-up of course, with new crazes and trends – but I'm trying to find an evergreen niche, not one that fizzles out along with the trend.
I want my niche site to generate a passive income for decades, not just a few weeks.
However . . .
I have found my niche!
It took a lot longer than I originally expected – over 7 hours of solid researching, in fact – but I got there, and I'm pretty pleased with the niche I've selected.
The process would have been a lot faster had I realised the adjustments I needed to make to Pat's methods earlier on – I spent at least 4 of those 7 hours following his exact method which only led to dead-ends.
Ultimately, Pat uses the software Market Samurai exclusively to find his niche – following an initial mind-map of ideas.
I too own a copy of Market Samurai (if you don't, you can download a free trial version here) and set-out to follow the exact same research criteria as Pat did – only to find that absolutely no keywords ever came close to meeting this criteria (at least 100 potential organic visitors per day and a maximum of 40,000 SEO competitors).
See the screenshot below on how you set this criteria in Market Samurai (more info on how to use this software later in the post):

All the keywords I tried, that had over 100 daily organic clicks, had a minimum of 500,000 SEO competitors. Indicating that these keywords were too competitive to tackle.
However, after many hours of searching and finding 0 keywords that matched Pat's criteria, I started to question the usefulness of the SEO competition data.
What this ultimately shows you is how many websites use this keyword phrase across the web. It doesn't necessarily mean that these websites are focusing on this keyword and that they are optimised for it.
Pat even mentions in one of his later posts that the SEO competition data is pretty useless, since it doesn't matter how many sites mention your chosen keyword, what matters is the strength of those sites that occupy the top 10 places in Google for your keyword.
So, I started to disregard this metric.
I also began to realise how unreliable the data is from Market Samurai's keyword research function – I'd perform a search on a keyword one time, and it would show 300+ SEO traffic and 500,000+ SEO competition, then the next time I search for this exact keyword, I'd have totally different results.
So, I also threw in an alternative process to ensure the data I was basing my decision on was accurate – I'll cover this shortly.
Here's my full revised process for finding my niche:
Step 1: Mindmap
I began my process much like Pat did, but instead of creating a mindmap around fears, problems, and passions – I just created mine around passions.
I see the logic of focusing on common problems and fears that people have – because there's a demand for knowledge to overcome those problems and fears – but I just couldn't see myself writing content for a site that focuses on a problem or fear-based subject.
Given I'll be writing all of the content for this site myself,  in order to maintain my interest, and allow me to speak in an engaging way around the subject, it has to be about something I have a passion for.
So, here's my original mindmap (I used the free trial version of a software called SmartDraw to build it):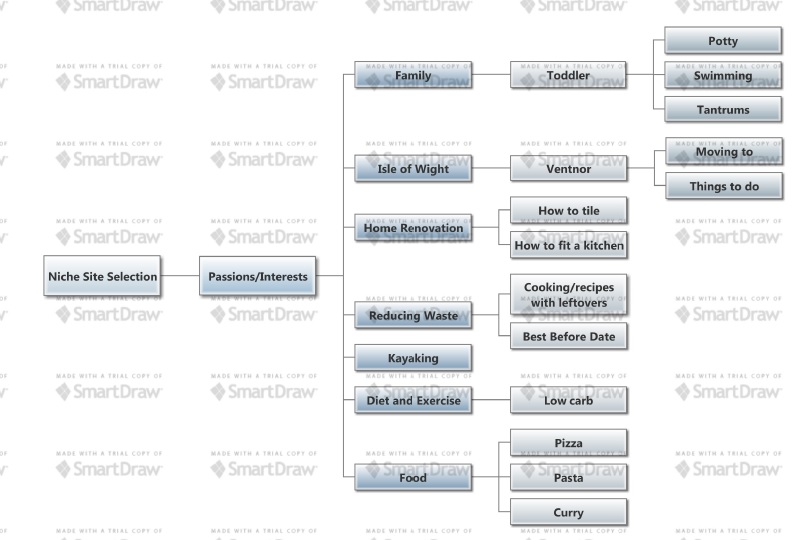 After failing to find a keyword to match Pat's original metrics, a fresh set of eyes really helped (in this case, my lovely Wife Grace) in coming up with even more keyword ideas, that eventually led to my chosen niche.
I also switched-up the method I was using, by doing the following:
Step 2: Keyword Generation and Research
Here' where I decided to ditch Market Samurai, and opt for data right from the horse's mouth – or Google's mouth, rather.
If you have an Adwords account, you'll already have access to Google's Keyword Planner. If you don't have an account, you can quickly set one up, and you'll get instant access to the Keyword Planner.
Just pop in a search term, and it will show you exactly how many monthly searches take place for this keyword, how competitive the PPC arena is for this keyword (which is a generally a good indication of competitiveness in SEO too), and give you a ton of high-volume, alternative and longer-tail keyword suggestions that you could focus on.
I ran keywords related to my passions mindmap through this tool, and came up with a condensed list of potential keywords that I could focus my niche on.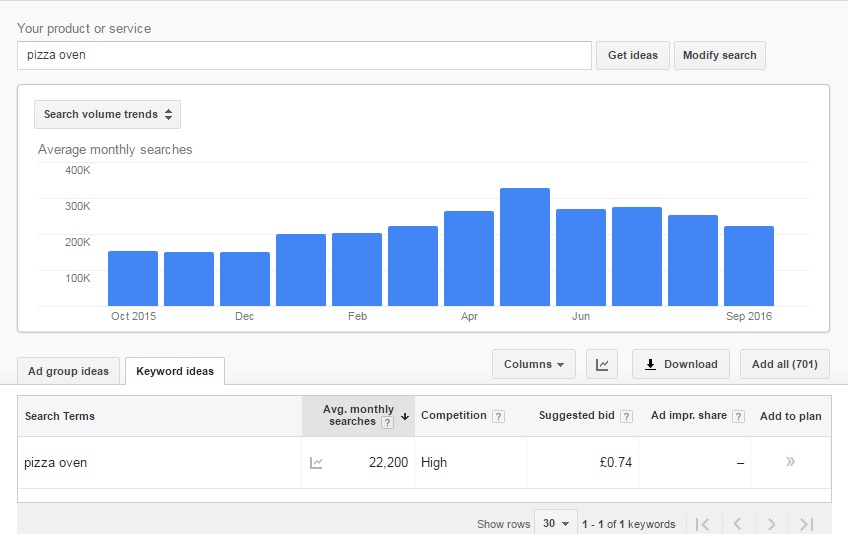 The two keywords with the most potential following the keyword planner exercise were 'non-alcoholic wine' and 'pizza oven'.
These both had relatively strong search volumes (5,400 and 22,000 respectively), meaning 'pizza oven' was the highest volume, but the PPC competition was also 'low' and 'high' respectively, so this kind of balanced-out the prospects of these two keywords.
Step 3: Competitor Strength
I then took the 2 keywords I identified in step 2, and ran them through Market Samurai's 'SEO Competition' module – I found this to be much more reliable and helpful than their keyword research tool, and really gives a good overview of the strength of the competition in Google's top 10 search results for your chosen term.
Ultimately, when using this, you want to see as many greens as possible, and as fewer yellows and reds as possible.
A lot of greens is good news – and means the competition in Google's top ten results for your keyword term are relatively weak. Reds and yellows on the other hand indicate strong competition, meaning it would be harder to break into the top 10 results for your keyword term.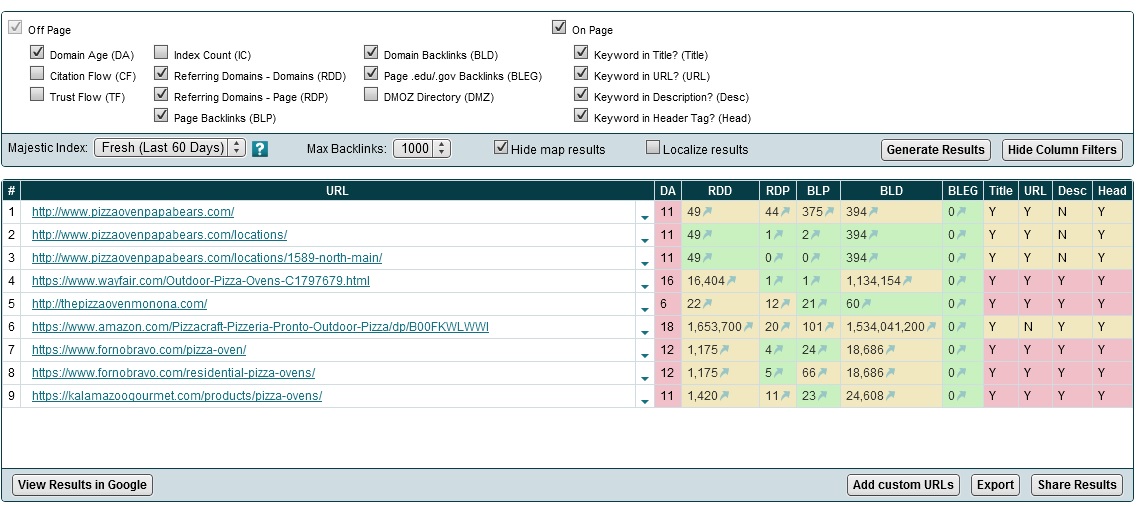 As you can see from the screenshot above on my term 'Pizza Oven', although domain age is pretty strong on the Global results, the other metrics for these sites are quite weak.
I also performed a local search by changing the project settings, to see how competitive the UK search arena was for this term, and it returned similarly weak competition.
The competition was stronger for Non Alcoholic Wines, which was contradictory to the PPC data provided by the Google Keyword tool.
So this, combined with the fact that 'pizza oven' had almost 4x as much organic traffic potential as 'non alcoholic wines', means 'pizza oven' is my chosen niche!
Insider Information: At Vitalife Group we've been working on developing a nice-tasting, non-alcoholic wine for quite some time now (it's more difficult than it sounds! Most currently on the market just taste like grape juice), so the 'non-alcoholic wine' focus would have tied-in nicely for when we come to launch this product.
But I want this niche site to become a separate business in its own right and not rely on other parts of our group to become successful – otherwise it's missing the point of showing that anyone can do it.
So the pizza oven niche fits the bill perfectly – and the work is now on to build the site, monetise it, and start promoting it.
Like Pat Flynn, my only rule in this process is to not use paid advertising to promote the site, so it all has to be done from link-building and SEO.
I've got the domain (which I'll announce to you in my next niche site post), now I'm on with getting a logo designed (using Fiverr.com), installing WordPress (using 1-click install with Hostgator), getting a cool free theme, getting the site online, and building the initial content.
If you're taking the niche site challenge too, and you've never set up a website before, I cover all of the above processes in one of the sections of my 'Fast Track Entrepreneur: Start an Online Business in 4 Weeks' course over on Udemy, and I've also made this section publicly available on Youtube for you to follow here.
Please share your own experience with finding a niche, and share your tips and techniques for finding a high-traffic, low-competition keyword to focus on in the comments below. I'd love to hear from you.
Similar Posts: