WordPress tags are more important for seo than you might think.
It's been a little while since I've looked at the analytics for my niche site pizzaovenhub.com and backlink building has been put on the backburner for a little while whilst I focus on completing our new warehouse purchase for Vitalife Group.
However, a little progress has been made in the background – I've still been making monthly blog posts for fresh content, social sharing, and a couple of backlinks, and this has, in-turn, led to a little bit of organic traffic.
I always like to see what keywords people search for when they land on my niche site.
I perform a little keyword research before developing any new blog posts using Google's Keyword Planner in order to focus on higher-traffic, lower-competition terms to boost my chances of gaining more organic search traffic – but it doesn't always work out as planned.
Sometimes, I start getting ranked for terms I never really planned for. Often, I get more combined traffic to posts from unexpected search terms than I do from the terms I actually optimised my post for.
So, I decided to dig a little deeper to find out what was helping me rank for these particular terms when I hadn't even necessarily optimised my posts/pages for them.
In my analysis I used the Search Analytics module on my Google Webmaster Tools account to discover what terms I was ranking for, and which ones were delivering the most clicks.
You could use your Analytics account for this instead, but I've always found analytics to be pretty useless at providing an understanding of keyword terms that visitors use – I end up with a handful of terms, but the bulk of my traffic shows under 'not specified', which isn't very helpful.
Perhaps I haven't set something up properly on my Analytics account – if anyone knows any more about this, please drop me a comment below.
Anyway, in my Google Webmaster account, it really drills down the terms that my organic traffic is using in an accurate manner, so I used the list of keywords this showed me, and looked into each one in-turn to find out why I was ranking for terms that I hadn't optimised for.
And here's the 3 key points I found:
1. They were very low to moderate volume terms 
I found that these terms were probably ignored by me during my initial keyword research because they were showing on the Google Keyword Planner at between 10 and 260 searches per month.
I normally aim to focus on keywords with over 500 searches per month.
Some were even showing Medium to High competition, which would have deterred me further from optimising and focusing on these terms in my posts.
2.They were mostly product-oriented terms
Most of the unplanned rankings were from product-oriented search terms – such as brand names for pizza ovens and specific models of pizza oven.
My top keyword for organic clicks is 'Igneus Pizza Oven' followed by 'Gozney Oven' – both of which were featured in blog posts on my niche site, but the posts were not optimised for these terms (they didn't feature in the URL, header, or any other H or alt tag on the page).
3. The ranked posts were mostly via tag URLs
All top 5 of my organic search terms were ranked on the basis of their tag URL.
For instance, on 'Igneus Pizza Oven', my niche site is ranked 5th on the following URL: http://pizzaovenhub.com/index.php/tag/igneus-pizza-oven/
Rather than the primary URL for the content which is: http://pizzaovenhub.com/index.php/2016/11/01/pizza-oven-of-the-month-november/
For me, this just highlights the importance of using tags in your posts. If I hadn't added the tag 'igneus pizza oven' to this post, it wouldn't rank anywhere near as well for this term, and I'd have missed out on all the traffic this has brought the site.
Tags not only help with on-site navigation and user-searching, they drop these words on a separate URL, which is optimised for those keywords, and uses them as the page title also (see below).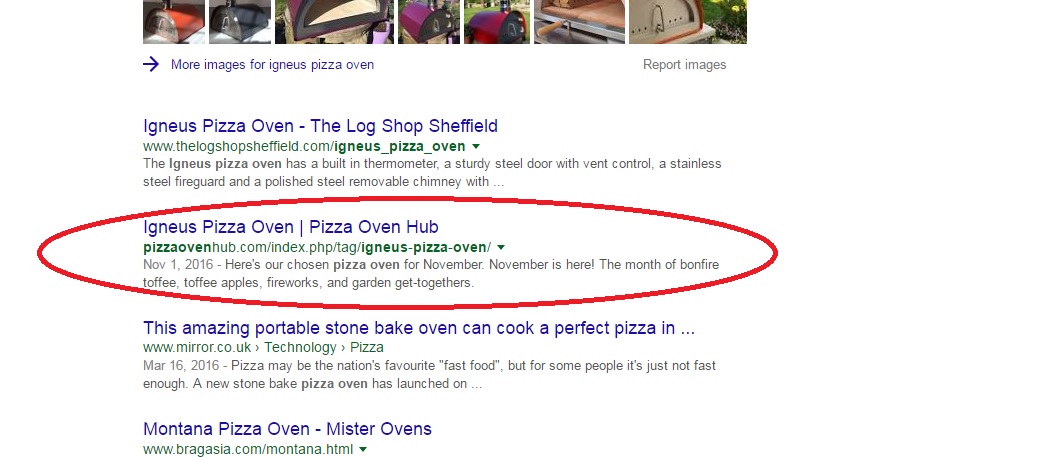 Using tags is effectively like quickly and easily creating a completely separate, optimised page for the keywords in your tag.
That's ultimately why, I believe, I'm getting a lot of traffic from non-optimised keywords – because I have inadvertently optimised the posts/pages for them by simply throwing some tags in there.
I'll update you all in a few more months with an earnings and traffic report for my niche site – but for now I just wanted to share this finding with you.
The lessons you can draw from this post to help you with SEO?
Always use plentiful tags in your WordPress posts
Don't ignore lower volume keyword terms
Don't pay too much attention to the 'competition' metric on the Google Keyword Planner (this relates to Adwords competition only, and doesn't necessarily reflect the competitiveness of the organic environment for your keyword)
Pay close attention to brand and product names
Use long-tail tags that will catch the more obscure and specific search terms. Short-term, single word tags have very little impact in my experience
If you have anything further to share about the importance of using tags on your WordPress site, please share in the comments below.
Similar Posts: