In this post I'm going to divulge my backlink strategy for my niche site.
If you've been following my niche site challenge this far, you'll know that I am not using any paid advertising methods to bring traffic to my niche site – this is pretty much the only rule of the challenge.
So, SEO is the main focus for my niche site, with an aim to get on the first page of Google for my primary keywords 'pizza oven' (for those just dropping-in on this post, my niche site is pizzaovenhub.com).
And as everyone knows, aside from on-site content optimisation, the key to good Google rankings is ultimately down to gaining quality, relevant links from other websites.
To do this properly, in a way that won't lead to penalties from Google (like blog comment and forum spamming), it takes great content, a carefully thought-out strategy, and a lot of time spent putting that strategy in-place.
So, my last post discussed my content strategy and how I built some awesome, engaging, and relevant content for my niche site, and how I optimised this for search engines.
In this post, I'm going to discuss my backlink strategy for the niche site, and how I get this content noticed, shared, and linked-to by relevant websites.
Here goes . . .
My Backlink Strategy
My backlink strategy ultimately comprises 4 parts:
Find relevant links
Outreach, to gain those relevant links I've found
Follow-up on outreach to maximise conversion
Consistently repeat
So here's the 4 steps in more detail:
1. Find Relevant Links
The easiest way to get links is to look for resource or links pages on relevant sites.
These are pages set-up purely with the intention of the website owner pointing his/her visitors to other useful websites. So it shows the openness of the website owner to sharing external resources, and it provides a perfect pitch for your own link to go here.
Brian Dean from Backlinko states in his SEO guide that contextual links are the best (links within posts and regular pages) – but these come more naturally from relationships and awareness of you and your brand. The resource and links pages are the quick wins to focus on when you're starting-out.
During my research I've seen a lot of long-winded and fancy ways to find these sort of links.
But I just went with a very basic approach – I Googled various keywords related to pizza ovens plus 'resources' or 'links' at the end. So for example:
Pizza resources
Pizza links
Firewood resources
Firewood links
And so on . . .
After all, you're ultimately looking for high-quality, relevant links in Google's eyes – so what better way to verify that sites are high-quality and relevant to your field than running some Google searches on your keywords, and outreaching to those that show on the first page of results.
It pretty much guarantees both relevancy and quality in Google's eyes – otherwise those sites wouldn't show in the first page of results.
I did try using the -inurl: search technique for resources and links pages, so for example, searching:
pizza -inurl: resources
This is ultimately telling Google 'I want you to show me all websites related to pizza, that have the word resources in the URL' – with an aim to just drawing-back only resource pages (rather than sites that contain phrases like 'the number 1 pizza resource' and so on).
But it tended not to bring back anywhere near as many relevant results as just searching 'pizza resources'. Maybe my niche just isn't suited to this type of search. Anyone else have trouble with this? Please share your experience in the comments below.
Top Tip: Make sure you use an incognito browser window, and sign-out of any Google accounts when you're searching for backlink opportunities. This ensures the search results aren't skewed by your previous browsing history or preferences, and Google bases results purely on relevance and site quality.
As a general rule, for the results on each related keyword, I'd run down all relevant websites on the first page only, and contact them all one-by-one.
Here's how I did it:
2. Outreach, to gain those relevant links I've found
UPDATE (04-11-16): Tom Watts from Blog Traffic Builder got in-touch after reading this post and recommended a software to make outreach (and following-up outreach leads) much quicker and easier. The software is called Ninja Outreach, and you can see how it works in my video review here.
You'll see from this that the software is great for some things, and worth checking out, but for other things, like the 'broken link' technique, it's a little more difficult to use. So it's still worth taking a look at the more manual method I adopted below.
Another tip I learned from Brian Dean's SEO guide was to use the 'broken link' technique when doing outreach to websites – this delivers a much greater conversion than simply begging for a link to be placed on their site.
What is the 'broken link technique'?
So, in summary, the broken link technique involves visiting a site's resources or links page (the page where you are most likely to be able to gain a link), and checking to see which links on that page are broken.
When you find a broken link, you contact the owner of the site, and you now have something productive and useful for them to listen to (alongside your pitch for a link) – you've just identified an improvement that can be made on their website.
First things first then – how do you find out if a link is broken without tediously clicking on each link to test?
Well, there's an awesome free extension for the Google Chrome browser that automatically runs down all the links on a page and generates a quick report on which ones are okay and which ones are broken.
It highlights broken links in red, so you can copy the link and send in an email to the website owner.
Here's the link to the free extension: https://chrome.google.com/webstore/detail/check-my-links
And here's what a check looks like once complete: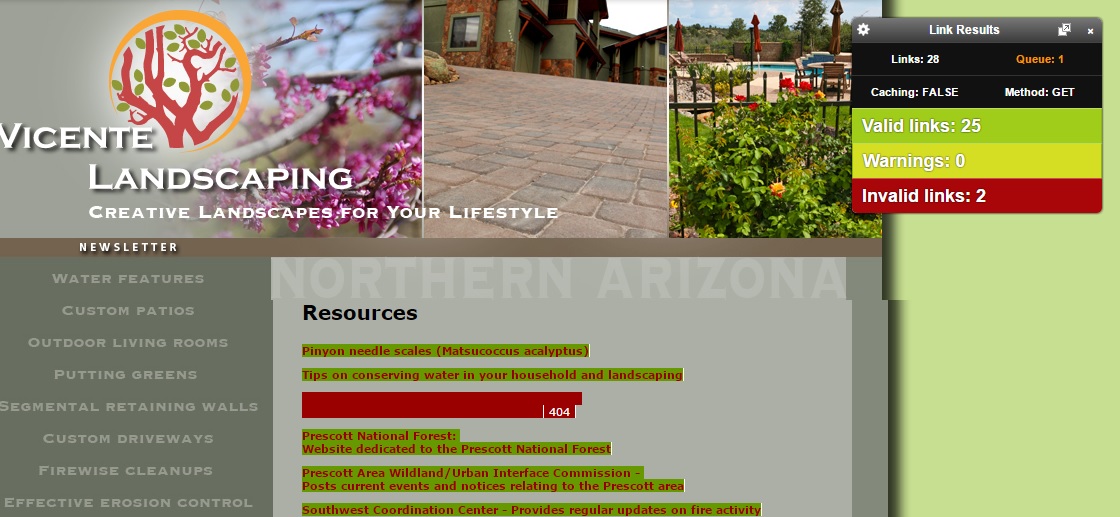 So once you've found your broken link on a relevant site's resources or links page, you've got your 'in' and it's time to approach the site owner with what you've found (and a pitch for your own link to go on there).
The reason the broken link method is so effective is that it's harder for someone to ignore a broken link on their site than it is to ignore a begging email asking for a link. If they care anything about their website and their own Google rankings (which they should, if they are showing up on the first page of results for your searches), then they will just have to access their content management system, or contact their developers, to correct it.
And while they're already in there correcting the link, it becomes 100x easier for them to either replace the broken link with the link you have proposed to them, or to just drop your link on the page somewhere relevant (just as a thank you for spotting the broken link!).
So, here's the template email I used to contact the site owners about their broken links. I pitched an article to my prospects, but I would imagine tools/calculators (if you have any of these on your site) would work great for resources/links pages too:
Hi (name, if you can find it on the site)
I stumbled on your awesome (genre of website) resource page today. Great work!

Just wanted you to know that I found a couple of dead links:

(Provide links here)

Also, I actually just finished my new article over at (URL of your article on your niche site) that contains some great information on how to (what the article is about).

It might make a nice addition to your resources page or a share elsewhere on your site.

Either way, keep up the great work you're doing with the site.

Thanks

(Your name)
With this template I hit a conversion of between 7-10% across the sites I found through my keyword searches – which I think is pretty respectable. So for every full page of 10 Google results, I'm just about getting 1 link at the moment.
And to get this conversion up further, I do this . . .
3. Follow-up on outreach to maximise conversion
Sounds simple, but if you're hitting the outreach hard, it can be difficult to remember who you've contacted and who you haven't – so that you can make follow-ups to your prospects.
This becomes especially difficult if you're using a mix of both on-site contact forms and emails via your own email client – as then you don't have one centralised point to pick-up on all the emails you've sent.
The way I manage this is by dropping the web address or email address of each site into a spreadsheet – a simple spreadsheet, and just one field for each contact.
When I was a lot younger, consulting for a business, I remember they used a follow-up system for customers and leads, and it was so clunky and unnecessarily complex that it just didn't warrant the time invested entering all the data, just so follow-ups could take place.
So, now I avoid any software or complex solutions when it comes to follow-ups – your time should be spent on the outreach and follow-up itself, not on unnecessary data entry to try to facilitate these things.
If you get a positive response and a backlink from your lead/contact, then highlight their field in green, so you know not to chase them any longer.
The only other useful field would be a date to show the date you last contacted the prospect – so you aren't bombarding them with requests every day, or alternatively, you aren't leaving it too long to follow-up to the point where they have forgotten about your original outreach email.
Here's my email template for follow-ups to your backlink prospects (though I haven't used this myself yet as it has been less than a week since I sent the initial emails out – I'm planning to leave at least 1-2 weeks between emails to the same prospect):
 Hey (name)

I just wanted to follow-up on my last email to you about the broken link on your site.

Did you manage to get this fixed?

It tends to have a negative effect on your search engine rankings when you have broken links on your site – and I found your site really useful, so am keen to help you stay visible for other people like me to find you.

Also, did you check out my link? Here it is again if you missed it: (URL of article on your niche site). It shows you how to (what the article is about).

Feel free to drop this in your resources/links page when you go in to correct your broken link, if you find it helpful.

Keep up the great work – I keep on coming back to your site.

Thanks

(Your name)
This message uses a mix of fear and flattery to help provoke the website owner to take action on the broken link, and to consider your link for their site.
You can repeat this email a few times over if you hear nothing back over the course of a few weeks.
Backlinking is a rather laborious numbers game, so persistence and consistency are key. Which leads me to the 4th and final part of my backlinking strategy . . .
4. Consistently repeat
Repeat the above 3 techniques as many times as possible.
Think semantic (those that are similar to, but don't include your primary keyword) and derivative (those that include your primary keyword) keywords when searching for relevant sites, and that should give you a nice diverse set of websites to approach for links.
For me, with pizzaovenhub.com a semantic keyword could be 'firewood' and a derivative keyword could be 'wood fired pizza oven'.
With backlinking, there comes a time where your website will have enough search engine visibility and awareness that you'll naturally gain backlinks from this – it's a self-reinforcing principle, backlinks gain rankings, which in-turn raise awareness and this attracts more backlinks naturally.
But we're right at the beginning of this principle, where no awareness or rankings currently exist, so we have to 'force' backlinks with outreach initially to get ranked, and then things should naturally reinforce from here forwards.
It is tedious, and there are other things I'd rather be doing, but the fact is, if you don't encourage backlinks, you'll never get ranked well, and you'll therefore never get substantial traffic and revenue from your niche site.
This is a point in your niche site's progress where consistency and persistence are absolutely key to success – so keep at it, and the results will come. I'll be documenting my progress as I go so you can see how this hard work pays off eventually.
If you are building your own niche site, there's plenty to be getting on with in terms of using the 'broken link' outreach technique.
If you have any other tips and tricks when it comes to outreach, please share them in the comments below.
Here's a (slightly premature) progress report on my niche site pizzovenhub.com . . .
An Early Progress Report
It's only been a couple of days since I started my outreach, and I have already gained 2 Twitter/Facebook shares.
I do have 3 solid leads from this too, who are willing to share future content should they see fit on their sites. These are people I can share new blog posts with, and also present guest post opportunities down the line when I start exploring this technique too.
My rank for 'pizza oven hub' has also jumped from no 8 to no 3 on Google – so I must be doing something right with the things I've been introducing, although still no ranking to show for my target keywords 'pizza oven' – some solid backlinks should change this.
I'll post a full progress report 1 month from now to show you what has changed with my niche site – and I'll hopefully be able to accompany these with income reports from the site, who knows!
Stay tuned for more.