We're already 1 month on from when I first started my niche site 'Pizza Oven Hub'.
It feels like much more time has passed since I was first researching and trying to find the right niche for my site – so much has happened this past 4 weeks (and I was ill for one of the 4, so it's more like 3 weeks in terms of weeks spent out of bed!).
Since then I found my niche, bought my domain, designed and built content for my entire site, and have managed to secure at least 2 high-quality, highly-relevant backlinks – and it's already starting to show the impact of this in our search engine rankings.
That's on-top of my regular commitments with Vitalife Group – where I've been sourcing some new store locations for one of our businesses, progressing things with the drawn-out warehouse purchase, coordinating and planning a new video ad for Vitalife Health, negotiating on some new stock bundles, chipping-in on customer service, and introducing quite a few changes and new, exciting features to the websites.
Plus I got to spend some good quality time with my lovely Wife and Daughter this month in Robin Hill on the Isle of Wight, and we've been out to eat quite a few times trying some newly discovered restaurants on the Island (The Pointer Inn in Newchurch do THE NICEST pie I've ever eaten – the Newchurch Pie – check it out if you're ever on the Island).
Not to mention posting on here!
Phew.
It's been a very busy, challenging but enjoyable month.
Cut to the Chase . . . How much Income has it Delivered?
Drum roll please . . .
Over the past 4 weeks, since I started my niche site, it has earned a grand total of:
£1.95!
And don't laugh – I'm actually quite proud of this figure. It's a success as far as I'm concerned.
Here's my Adsense account snapshot (if you can't believe your eyes!):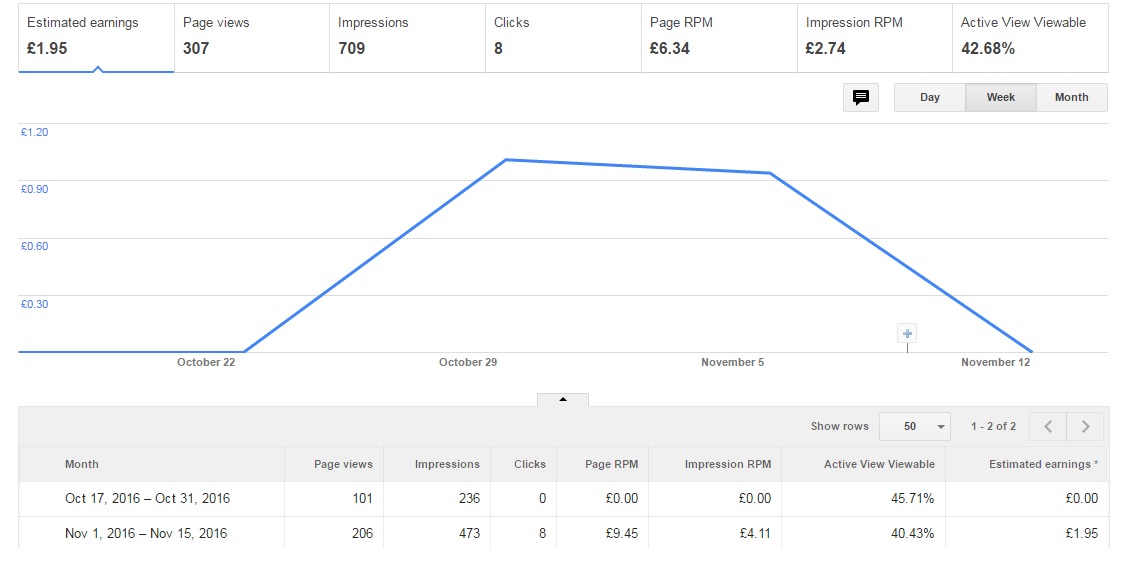 It barely pays for a cup of coffee, but it's still a success.
Why?
Because 1, the only costs associated with setting the site up were the domain purchase (3 years at £27.12) and ebook cover/logo design (around £7 after currency conversion on Fiverr), so I'm already a whopping 5-6% towards reaching break-even on the project, and 2, more importantly (and seriously), niche sites have a compounding effect as your traffic builds – meaning they typically earn very little or nothing in the early stages, and as traffic grows, so does the income from the site.
Plus, your involvement and investment of time/energy tends to follow the opposite trend – so whilst I've invested a lot of time at the outset in getting things setup, as I get more backlinks and more SEO visibility for the site, my time and involvement should fall, just as income from the site rises.
This eventually leads to a situation where you are earning income from your niche site without any involvement whatsoever – which is the holy grail for everyone right? Fully automated income.
I actually added this site to my existing Hostgator hosting account that permits unlimited domains – so no ongoing hosting costs are incurred either.
Search Engine Performance
Whilst ranking for the (slightly more competitive than I realised) primary keyword of 'pizza oven' is still proving to be elusive, the site is ranking for a lot of derivative keywords like 'Igneus Pizza Oven' (position 14) which is a popular pizza oven model, 'buy pizza oven online' (position 83 now, following a position of 44 last week – which I'm guessing is down to the 'Google Dance'), and many more.
All of these have delivered 14 sessions over the past 2 weeks from organic traffic, and it only started ranking for these derivative words from the moment the first backlink was placed.
Before this, the site didn't rank at all – for anything – for the first couple of weeks.
Proving the importance of backlinks when it comes to SEO.
See the organic traffic pattern below:

This is just based on 2 do-follow links on high-authority, relevant sites, and a few social shares.
The rest of the traffic has come from the social shares we've had and a few visits from referrals from the backlinking sites.
I'm still convinced we can get the site to page 1 for the primary keyword 'pizza oven' with more quality backlinks.
If you want to learn how I gained the first 2 backlinks and how I plan to gain more, read my (more effective) backlink strategy here.
As you can see, organic traffic is still minimal, and in its first month, the full traffic figure came to a grand total of 215 sessions from 160 users.
So, again, next-to-nothing.
Which is reassuring, and gives me even more confidence of the site's earning potential, because if the site is generating revenue of £1.95 against 215 visits, then if we do eventually land the first page of Google for 'Pizza Oven' with 22,000 searches per month, on a relative basis, this should generate £198.90 per month.
Plus, add in all the derivative keywords that will deliver a good deal of traffic too, and consider that the £1.95 figure only came from one of the site's revenue channels – Adsense, and no consideration given for the earning potential from our Amazon affiliate store, then total earning potential could easily exceed £1,000 per month with the right level of traffic.
And for no involvement from me by that point, that truly would be passive income.
How to Make Your Adsense Ads Effective
One thing I have learned throughout this niche site process is you can go two ways with your Adsense ads – make them obvious, or subtly work them into your site content.
I've found that the latter is far, far more effective than the former.
My clickthrough rates on banner/graphical type ads have been much lower than my clickthrough on link-based or text-based ads.
People just don't seem to click on ads when they're very obviously . . . ads.
The best-performing ad groups I've seen have been link-based, where they mimic a navigation menu or something similar – you can see how I worked a set in on a screenshot of my niche site below: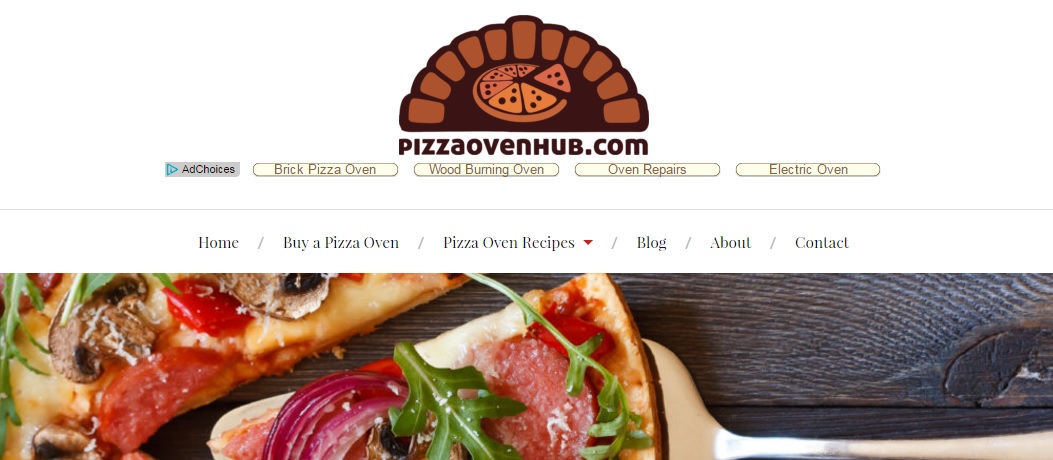 This actually looks like part of the website navigation, and is also one of the first things the visitor sees, so is therefore the best performing ad group for me.
Some people might consider this underhand and sneaky – and whilst I'd agree that it does encourage people to click on paid ads, I'm still comfortable with this tactic because:
It still delivers content that the visitor clicks on and expresses an interest in, so it isn't misleading in the content it delivers
It still makes it clear to visitors that these are ad-based links since the 'Ad Choices' link  is placed to the side of them
It ultimately delivers my goal as the website owner – to get visitors off the site, via an ad. And it's very effective at it too
So, there you have it – my month 1 update on my niche site progress and income report.
Whilst I'm not quite making a fortune with it, things are looking promising and I'm really confident and excited about the future of this website and where it will go with a few more backlinks.
If you're also going through your own niche site journey, please share your progress and income in the comments below. I'd love to hear from you.